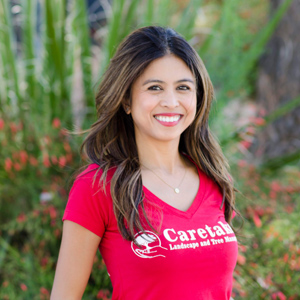 Mischelle White
Director of Events - Construction & Development
Mischelle joined Caretaker Landscape and Tree Management in 2009 as the first Business Development Manager focusing on the commercial real estate sector. During her tenure with the BD team, she was the primary member for AMA, BOMA, IREM, HBACA, and Valley Partnership.  In addition, Mischelle was a member of the BOMA Board of Directors from 2013-2014.  In 2015, Mischelle was a graduate of the Valley Partnership Advocates Class.
Mischelle earned her Certified Desert Landscape Professional (CDLP) designation through Desert Botanical Gardens and her Sustainable Landscape Management (SLM) certification through Arizona Landscape Contractors Association (ALCA). Her passion for education and relationships within the industry shined through as she increased corporate revenues, while simultaneously improving Caretaker Landscape's brand.
In 2016, Mischelle transitioned from Business Development to Director of Events, focusing primarily on quarterly industry events for Caretaker's construction and development clients. Mischelle's exceptional execution and keen attention to detail significantly elevated Caretaker's events, which have since earned the reputation as the most sought-after events in the industry.
Mischelle is deeply involved in her local community. Mischelle has raised awareness, volunteered, and fundraised for a variety of groups, such as the Scottsdale Charros, Brokers for Kids for Scottsdale 20/30, and Valley Partnership's Community Projects, to name but a few.
In addition, Mischelle is a proud member of the distinguished Phoenix Heart Ball for the American Heart Association. She served on the ball's 61st annual committee and currently serving on the 62nd annual committee. Mischelle is also currently  fulfilling a three-year term with The Phoenix Theatre Company as a Board Member, focused efforts include the Board Recruitment Committee and Equity, Diversity, and Inclusion Committee.